FUCHSIA
Fuchsia is one of those hard to judge albums on first hearing, but the more you listen to it the more it captivates, as it grows on you. As a consequence this LP has over the years become a must for any good collector of the genre, and has been given special attention and plaudits by the more discerning music critic and lover of '70's music.

FUCHSIA, according to Tony Durant
"I was born in London, Palmers Green, (a first generation post war baby boomer!) and moved to South Africa when I was 6 months old. My family returned to England when I was 10. Then boarding school, Dover College, a middling English public school. I started playing drums at school, then guitar when I left school, and during the '60's found myself caught up in the progressive psychedelic music thing. From 1966 to 1968 I played in a band called Louise in south London, with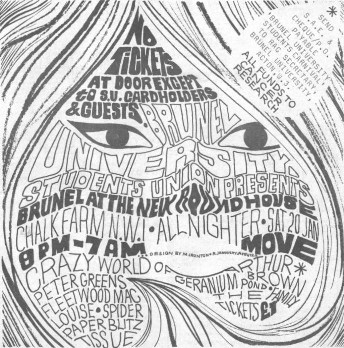 Robert Chudley and Chris Cutler (later with Henry Cow), doing some pretty weird stuff, original songs ("Another Nail" resurfaced years later, while a recording of "Look at the Sun" could still exist somewhere!) and others with long free form sections in the middle...liquid light shows, all that kind of stuff. With the end of the '60's, the band was going nowhere and I felt a need to do something quite different, so I went to Exeter University to escape music for a while. Two weeks into University, and I had started writing music again, this time for a night of poetry based around Ferlinghetti's poems, on Goya's pictures of the Napoleonic wars of all things, and with a general anti war theme. I advertised for players and found a London Cockney piano player (Mick McGee) and ex colonial Dave Haskins on drums. From memory the bass player could have been Mick Day. It was a good night, which had me totally hooked into music again. Then I wrote and recorded some harder edged songs like "Ring of Red Roses", playing them at one of the Ottawa concerts in 1971, organised by Chris Cutler and featuring various luminary associates of his. I played this gig as a three piece with Chris Cutler on drums and Mick Day on bass. About the same period, I formed the Fuchsia band with Michael Gregory and Mick Day. I wanted to experiment with writing songs not to the normal pop format, rather a series of musical themes, which start at a particular, point and move on, without necessarily following the normal classic pop song format. Also I wanted to experiment making string parts an integral part of the song itself, rather than something added to embellish the song once written (this was pre Electric Light Orchestra, remember), so we were soon joined by Madeleine Bland (Cello), Janet Rogers (Violin) and Vanessa Hall-Smith (Viola). Also students at Exeter, the girls were from a purely classical background and wanting to do something different. It was a very adventurous project with great production difficulties in actually amplifying the strings for live performances, together with our relative lack of experience. We played a few gigs at the university, and recorded two songs, "Ring of Red Roses" coupled with "Shoes & Ships", at a demo studio in Torquay. A good friend in the industry, Paul Conroy, passed the demo on to Terry King, who signed us up to his new Kingdom Records label, distributed through Chrysalis Records. I think Terry was as impressed by the radically different approach to the music as he was by the fact that there were three girls in the band! We recorded the album in the early summer of '71 with David Hitchcock producing, and then went back to university, with the intention of doing a promotional tour for the album in the next holidays. The album was released with one ad in Melody Maker and some reviews in various papers, which were all very complimentory. That was the total extent of the promo it received. The proposed promotional tour disappointingly never eventuated, and after months in limbo, the project came to an end.... and a band that don't play together, don't stay together.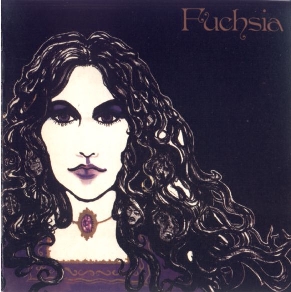 We recorded another demo, ("The Band" and "Ragtime Brahms") but failed to capture a new record deal. I continued to play with the drummer and bass player, eventually ending up in London and playing round there. The Fuchsia concept revived itself in 1975, when I wrote a series of songs for a theatre show based on Brecht's Threepenny Opera, which to this day I feel was the best thing I ever did in terms of realising the true potential of the string trio/rock band ensemble. This was with various players from the London College of Music. There was some interest from Virgin records, but a miss is as good as a mile!! The rest is history. I played with Punchin' Judy with Greg, Robin Langridge and Keith Grant-Evans, (a true legend-Downliners Sect) and am still in touch with Keith today. This blues based band had a deal with Transatlantic Records and an LP to promote, so we played mainly university venues in England, and toured Holland. I also played with a reggae band called Greyhound for a short time, no recording, but one great live performance for the Jimmy Saville Show in about 1975. I came to Australia in 1978 for one 4-month tour and to produce one album for Dave Warner, a Perth punk musician. I had previously recorded some demos with him and another fellow in 1976. With its highly original 'Suburban Rock' theme, the album we recorded went gold, and we became a major cult act here for about 2 years, while I was commuting back and forth between London and Australia. In1981, I eventually made the decision to live there for 2 years, which turned into 20 years in the blink of an eye. Australia went well for me, playing, producing, jingles/advertising/film and doco music while in Perth Western Australia. I did a lot of stuff for Alan Bond for the successful 1983 Americas Cup Challenge. In the '90's I moved to Sydney with a band on the back of a publishing contract with Polygram, and continued playing for several years before striking out into the exciting world of video production. I now have my own production company, and I'm currently involved in a variety of projects from docos on the womens refuge movement to videos on the history of motor sport."
To complete the story above, we like to point out that the album was also issued (in 1972) in France too, this time by Kingdom label itself (cat. KV 6002). As far as the other musicians mentioned above, as already said Chris Cutler joined Henry Cow in 1972, continued with Art Bears, Pere Ubu and is still involved today in countless musical projects. Michael Gregory, after some time spent in rock revival circuit, with Heinz, Jess Conrad, Big John's (Goodison) Rock'n'roll Circus, and with Greyhound as well, established himself as the "other" (besides Dave Mattacks and Gerry Conway, of course!) folk-rock drummer, playing with Ashley Hutchings, Shirley Collins, Albion Band, Home Service, Jay Turner, and today is gigging and recording with Ric Sanders and Vo Fletcher and recently issued a new with his new GREENHOUSE BAND. Both Gregory and Durant collaborated also in Simon Boswell's The Mind Parasites (Transatlantic, 1976), an interesting Al Stewart-like project of this musician, nowadays best known for his soundtrack work. About Michael Day, we only found a participation in "Pale Horse", the only offer by Dave Carlsen (Spark, 1973). Vanessa Hall-Smith has been for many years a renowned lawyer specialised also in musical legal rights, but now is working with the British Institute in Italy. David Hitchcock, besides Caravan, Camel, Genesis, Marillion, Pink Fairies, Curved Air, Nazareth, produced other less famous, but intriguing and now collectable, little bands like Mellow Candle, Aardvark, Jan Dukes De Gray, Walrus and Mother Nature. We also like to report that to Anne Marie Anderson, author of the enchanting cover portrait, we owe the beautiful artwork for Caravan's In The Land Of Grey And Pink too. Bob Chudley, at last, after having worked now and then with Cutler, continued to write songs without finding a publisher, giving up writing around '76 in coincidence with his marriage. Luckily, some of his songs were recorded with the help of Tony Durant and should be included in a forthcoming CD, which will also collect some very interesting unreleased Fuchsia demos and of course the Mahagonny tracks.
At last, we want to add that Fuchsia owed their name to the excellent Mervyn Peake's book Titus Groan. Other bands got their names off this highly recommended novel, in primis Titus Groan of course (whose lone album on Dawn label was mostly inspired by that book too, as stated by tracks like "Hall Of Bright Carvings", "The Burning" and a mispressed "Fuschia"). More obscure groups were Steerpike in 1969 and Gormenghast between 1969 and 1971; Al Stewart wrote his thanks to Peake in his 1970 "Zero She Flies" cover notes, Strawbs wrote "Lady Fuschia" (sigh!) in 1972, Third Ear Band recorded "Groan's Dance" for BBC in 1972 and Fruup had a track called "Gormenghast" in their last album, 1975. But we are sure there are many more, right?