MAYFIELD's MULE
NWRCD 07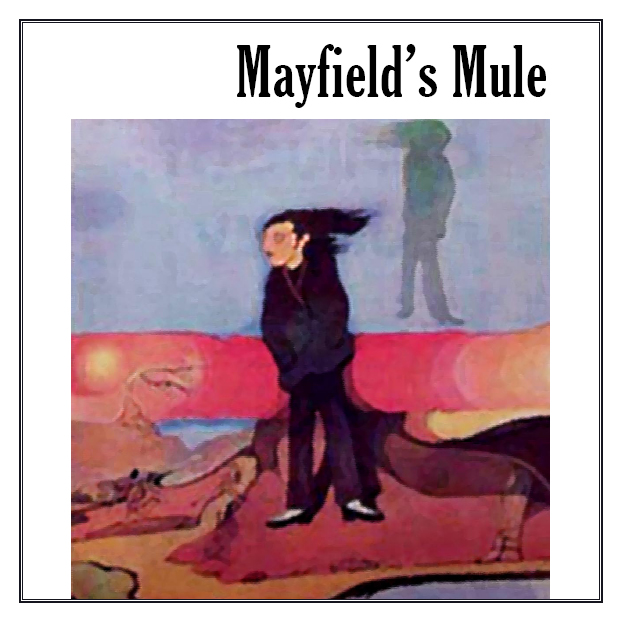 THE SONGS

1. Oh Lady 5'06
2. Double Dealing Woman 3'30
3. My Way Of Living 4'13
4. I See A River 2'18
5. Down From The Country 3'41
6. Drinking My Moonshine 2'44
7. Abracadabra 5'23
8. Here Comes The Rain 9'19
9. Rolling Down The Highway 2'17
10. My One For Your Two 8'15
11. Life's Been Good To Me 1'56
THE MUSICIANS
Chris Mayfield: guitars / lead vocals
Sean Jenkins: drums
Steve Bradley: bass / harmony vocals
Pete Saunders: keyboards
"Moxie" Gowland: harmonica / flute
PP Arnold: backing vocals
Henry Spinetti: drums on tracks 2 and 6
Chris Hunt: drums on track 11

All songs by Chris Mayfield except for "Life's Been Good To Me" by Chris Mayfield & Mox Gowland
All songs originally recorded 1969/70, published by Warner/Chappell Music Publishing Ltd. and licensed courtesy of EMI Records Ltd by arrangement with Chris Mayfield
Tracks 2 and 6 recorded at Trident Studios, London.
All the other tracks recorded at Abbey Road Studios, London.
Engineered by Alan Parsons, Richard Lush and Nick Webb.
Produced by Jonathan Peel, Mike Smith and Chris Mayfield.
Digitally remastered by John David at Berry Hill Studio, Berry Hill, Gloucestershire
cover illustration: Steve Bradley
CD and booklet artwork: Loriana Martin
This album is dedicated to the memory of Sean Jenkins who drummed mightily
on this music and sadly passed away just before it's release.
---
the album is available in the following format:
NWRCD 07 - 5" CD jewel case with 12 pages booklet